Kimberly is obsessed with transforming Planet Earth for the better.  Here are some examples:
Where do we go to grapple with the most complex and critical questions of our time? Where can we visualize solutions to complex problems and inspire fact-based decisions that lead to action and impact. The Silicon Vally SIMCenter is a highly interactive, engaging, and immersive visualization center that is "Mission Control for Planet Earth". We enable people to envision possibilities and impacts far beyond just "talking about it", inspire ACTION, and track status and progress.
It's no secret that our world is changing. Regardless of cause, we are faced with rising sea levels, record warming, water stress and stronger storms. These changes transcend state and national borders. If you are working on a solution for your region, this experience will help to get a bigger picture.

But where do you go to grapple with the most challenging issues of our time?
How can we visualize past trends and future projections so we can make smarter decisions quicker?
Our answer is the Silicon Valley SIMCenter. The SIMCenter is an immersive visualization facility that enables us to surround you in visual data, trends, graphics and GIS maps. With this data and global perspective, we offer business leaders, academics, investors and policy-makers ways to collaborate across disciplines, find best practices and implement actions before it is too late.
We invite you to join us for this exciting 4 day preview of the SIMCenter.
Dates: August 14-17   9:30am – 5:30pm each day
Location: Mitchell Park Community Center, 3700 Middlefield Rd. Palo Alto, CA 94303
Schedule: We focus on the Big Trends — the Global, National and Local Drivers that affect us all. Each day is unique and will focus on the following issues:
The SIMCenter is currently a project of the Global Energy Network Institute. Both share the same mission to answer this important question:
"How do we make the world work for 100% of humanity
in the shortest possible time through spontaneous cooperation without ecological damage or disadvantage to anyone?"
The Global Game.
This day-long experience puts you in control of our world.  Major problems and consequences are presented, big trends projected into the future and solutions developed at both size and scale.  This is the best experience of our global condition you can get in a day.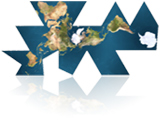 Global Game dates: Mon. August 14 and/or Thurs. August 17
Regional/Local Game dates: Tues. August 15 and/or Wed. August 16
Who uses the SIMCenter?
City Planners, Business Leaders, Researchers and Academics, Strategic Thinkers, Sustainable Engineers, Geography Students and Concerned Citizens.
Your participation is critical. Join us for all or part of this SIMCenter Demo series
Kimberly is an informal advisor to this exciting project. Offshore Membrane
Enclosures for Growing Algae (OMEGA) is an innovative method to grow algae, clean wastewater, capture carbon dioxide and to ultimately produce biofuel without competing with agriculture for water, fertilizer or land.
Kimberly was a featured speaker at the kickoff event for this game-changing community of luminaries. See her "Leadership Magic" speech here. What do you care about more than your comfort? What are you more passionate about than what you ate for lunch? Kimberly's playful approach, grounded in the gravitas appropriate to someone determined to transform Planet Earth, will entice you to to consider what you are capable of, and what's possible when we work together to achieve what none of us could achieve alone. Kimberly's practical leadership magic includes seemingly simple approaches like possibilities speaking and generous listening, sincere interest, and an attitude of gratitude. What's possible when a community of people commit to something that matters . . . even in the absence of evidence it's possible? Practical magic!
Innovating SMART – Innovating Smart provides services, solutions, education, conferences and tools to build an eco-system and community supportive of innovation, and enable effective innovation for organizations worldwide.  Kimberly is an advisor to Sue Lebeck, the Executive Program Director.
Open Kilowatt Institute – Kimberly is a founder and on the board of advisers for the Open Kilowatt Institute, an on-line collaborative community solving design and cost issues, empowering every home and office to be energy net-zero, cost-effectively.  OKI is creating an online collaborative community, modeled on the software opensource movement, to solve the hardware design/cost issues needed to make kilowatt-scale sustainable power and storage a practical reality. Our big, audacious end goal is to enable every house and office building to be energy net-zero, by driving the installed cost of small-scale renewable "green" energy down to the same or cheaper than coal (about 4 cents per kilowatt-hour, in the U.S.), within a single generation.
Donations
Kimberly regularly supports charities that help people improve their quality of life. Among her favorite charities are:
Kiva – a non-profit organization with a mission to connect people through lending to alleviate poverty. Leveraging the internet and a worldwide network of microfinance institutions, Kiva lets individuals lend as little as $25 to help create opportunity around the world.
Charity Water – a non-profit bringing clean and safe drinking water to people in developing nations.
The Heifer Foundation – Empowering people to changes their lives and end hunger and poverty.
Habitat for Humanity – Eliminating poverty housing and homelessness.
Monterey Bay Aquarium – Inspiring conservation of our Earth's oceans.
Oregon Shakespeare Festival – Bringing the gift of high quality live theater to people of all ages.
by